Item
has been added to your cart
VERIFY YOUR EMAIL
Please check your email for directions to activate your account.
Reset Password
Please check your email for directions to reset your password.
Welcome to ShaneCo.com. We are proud and pleased to offer an opportunity to experience Shane Co. on-line. As an employee or immediate family member, please read and agree to the following terms and conditions of the WSM employee purchase agreement.
As stated in the WSM Company Handbook, "employees may purchase merchandise at a reduction from normal selling price, provided that the merchandise is solely for either the employee's own use or for that of his or her IMMEDIATE family." Immediate family is defined as follows: Employee's spouse, spousal equivalent, daughter, son, mother, father, sister, brother, grandparent, grandchild, mother-in-law, father-in-law, son-in-law, daughter-in-law, brother-in-law, sister-in-law, step-parent, or step-child, or a person who is legally acting in one of the above capacities, or another relative living in the employee's residence.
Employees are eligible for the employee discount privilege after receipt of their first pay stub from Western Stone & Metal.
I understand and agree my password is unique to me and cannot be shared with anyone.
I agree I will not purchase any merchandise for the purpose of resale.
I agree I will not purchase any merchandise in proxy for others.
I agree I will not distribute or share, and will keep the employee price confidential.
Any misuse of this employee benefit will result in the loss of such benefit to the employee and all qualified family members stated above, as determined by the VP of Human Resources.
Any employee violation, or violation by a family member, of the Company's EMPLOYEE PURCHASE POLICY, Section IV-L of Company Handbook could result in progressive counseling action being taken with the employee up to and including termination.
Email Us
All fields are required unless marked "Optional"
To contact a store directly, please visit the
Store locator
.
Thank You !
Your email has been sent
Choose Your Setting
Choose Your Stone
Personalize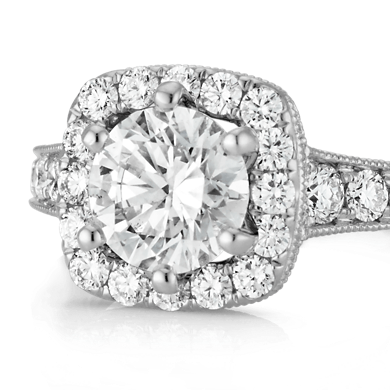 Engagement Rings
A custom engagement ring for today and all of your tomorrows. Find the one you've been looking for with Shane Co.'s signature selection and sparkle. You'll find halo styles, vintage looks, solitaire settings, infinity designs, and unique rings with colored stones. Pick your setting and your stone for an engagement ring that tells your love story.
Engagement Rings from Shane Co.

Getting down on one knee and asking the most important question of your life is a milestone moment. Make the experience perfect with a beautiful, personalized engagement ring she'll love. With Shane Co., designing your own unique engagement ring has never been easier.

What kind of stones are popular for engagement rings?

While diamonds are the most popular choice for center stones, many of our rings for engagement incorporate colorful gemstones. These vibrant hues come in the same shapes as diamonds.

Colorful gems add a unique twist to halo engagement rings and three stone engagement rings. Shane Co.'s beautiful engagement rings are made to last a lifetime and crafted with her favorite settings and stone options. Customizing a one-of-a-kind look is easy with engagement rings that incorporate her favorite gem types, including:

- Diamonds
- Sapphires
- Rubies


Whether you're picking out rings for your engagement or matching wedding rings, knowing what to expect when you shop can make your decision much easier. With over a thousand designs from classic to modern, shop Shane Co. for the engagement ring of her dreams.

What are the different halo shapes for engagement rings?

If you're looking for diamond engagement rings, halo styles are an elegant way to add more sparkle to her look. Halos are smaller diamonds that encircle the center stone on her ring. Halos can outline any of the different diamond shapes:

- Emerald: This cut is more traditional, featuring a rectangular shape and cut corners.
- Cushion: The cushion features a rounded square shape and gained popularity in the 19th century—a great option if you're looking for vintage engagement rings.
- Marquise: This diamond shape is elongated, which helps the diamond look bigger.
- Pear: Also known as a tear drop diamond, this cut is a combination of a marquise and round cut, featuring a tapered point at one end.


How do you create your own engagement ring?

You'll want to consider your partner's style, your budget, and of course the 4 C's (cut, color, clarity, and carat weight) before buying an engagement ring. At Shane Co., our website can walk you through the process of choosing a ring, and our jewelry consultants are waiting to assist you at any time! For more information, read our engagement ring guide.

How much should you spend on an engagement ring?

Despite the well-known "three month's salary" rule, the truth is there is no set budget for buying an engagement ring. It depends entirely on you and your partner's personal tastes, goals, finances, and priorities. We recommend setting a low and high budget, so that you end up landing somewhere in between. The most important part of deciding how much you should spend on an engagement ring is being upfront and honest about your expectations – with yourselves and your jewelry consultant.

How can you get the most out of your engagement ring?

At Shane Co., all of our customers can take advantage of our 60-Day Money-Back Guarantee, upgrade program, and Free Lifetime Warranty, which includes the center stone of your custom ring. To ensure your diamond engagement ring continues to sparkle throughout the years, and to continue to take advantage of our warranty, please bring your ring in every six months for a free cleaning and inspection.

What Are the Pros and Cons of Designing a Custom Engagement Ring?

Pros of Designing a Custom Engagement Ring:

+ The engagement ring will be a one-of-a-kind piece.

+ Custom rings can fit any price range because there is flexibility with the setting and gemstones.

+ Designing a ring provides another opportunity to add more sentimental value.

+ Creating a custom ring can be a wonderful, once-in-a-lifetime experience.

Cons of Designing a Custom Engagement Ring:

- Custom and engraved rings cannot be returned, but they can be resized.

- With endless customization options, some people can find the process overwhelming. This is why Shane Co.'s expert team of jewelry consultants is here to help you with design tips and walk you through the entire process.

Designing an engagement ring has never been easier, and with the help of the Shane Co. team, this has become a great option for many.