Item
has been added to your cart
VERIFY YOUR EMAIL
Please check your email for directions to activate your account.
Reset Password
Please check your email for directions to reset your password.
Welcome to ShaneCo.com. We are proud and pleased to offer an opportunity to experience Shane Co. on-line. As an employee or immediate family member, please read and agree to the following terms and conditions of the WSM employee purchase agreement.
As stated in the WSM Company Handbook, "employees may purchase merchandise at a reduction from normal selling price, provided that the merchandise is solely for either the employee's own use or for that of his or her IMMEDIATE family." Immediate family is defined as follows: Employee's spouse, spousal equivalent, daughter, son, mother, father, sister, brother, grandparent, grandchild, mother-in-law, father-in-law, son-in-law, daughter-in-law, brother-in-law, sister-in-law, step-parent, or step-child, or a person who is legally acting in one of the above capacities, or another relative living in the employee's residence.
Employees are eligible for the employee discount privilege after receipt of their first pay stub from Western Stone & Metal.
I understand and agree my password is unique to me and cannot be shared with anyone.
I agree I will not purchase any merchandise for the purpose of resale.
I agree I will not purchase any merchandise in proxy for others.
I agree I will not distribute or share, and will keep the employee price confidential.
Any misuse of this employee benefit will result in the loss of such benefit to the employee and all qualified family members stated above, as determined by the VP of Human Resources.
Any employee violation, or violation by a family member, of the Company's EMPLOYEE PURCHASE POLICY, Section IV-L of Company Handbook could result in progressive counseling action being taken with the employee up to and including termination.
Email Us
All fields are required unless marked "Optional"
To contact a store directly, please visit the
Store locator
.
Thank You !
Your email has been sent
Your guide to navigating the different types of ring settings so you can choose the perfect one for your dream engagement ring. From classic three-stone styles to intricate vintage-inspired designs, get the help you need to find an engagement ring setting that's truly as unique as your love.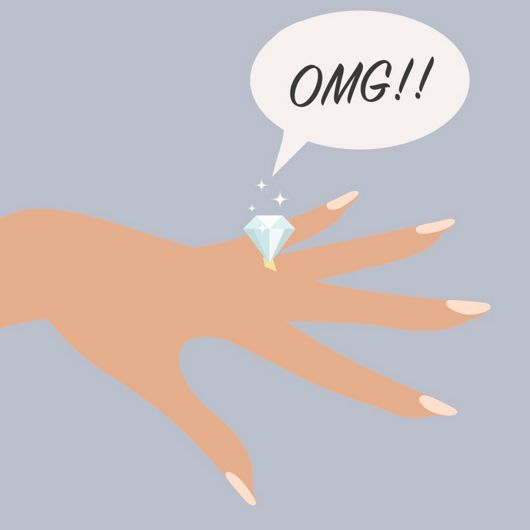 Exploring Types Of Ring Settings For Your Partner
Exploring Types Of Ring Settings For Your Partner
From a simple solitaire ring to a sparkling double halo, there are so many options when it comes to
choosing a ring setting
. Here are a few tips to finding the right setting for her:
Check out her other jewelry. Does she love vintage styles? Dainty and delicate? This will give you an idea of what she's into.

Ask her friends and family. They'll probably have an idea of what she wants — just remind them to keep it a secret!

Take our Style Finder Quiz. Answer some questions about her and we'll offer suggestions on rings she'll love!
How to Choose a Stone for Your Engagement Ring Setting
How to Choose a Stone for Your Engagement Ring Setting
Not sure what to pair with your ring setting? We can help.
Decide on a shape. Some settings will only hold particular stone shapes, so decide on a shape first to ensure it will fit in your ring.
Pick a stone type.
Does she have a favorite color? Then a sapphire might be the way to go. More of a classic girl? You can't go wrong with
diamonds!
Narrow down size. Based on your budget and how you'd like the ring to look, decide on a ballpark for stone size and carat weight.
Explore your options. Now that you have an idea of what you're looking for, visit us in-store to see your stone options in person, or explore our selection of loose diamonds and gemstones online.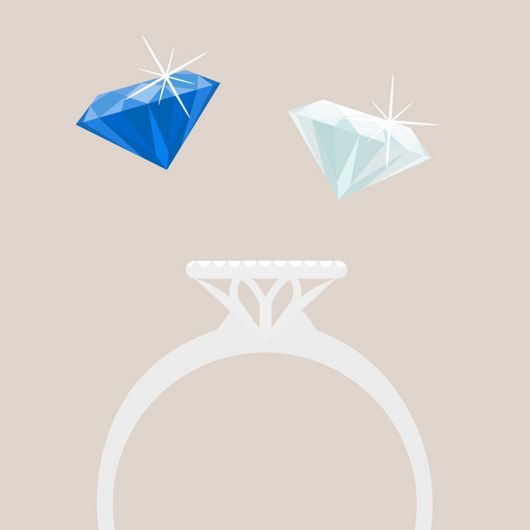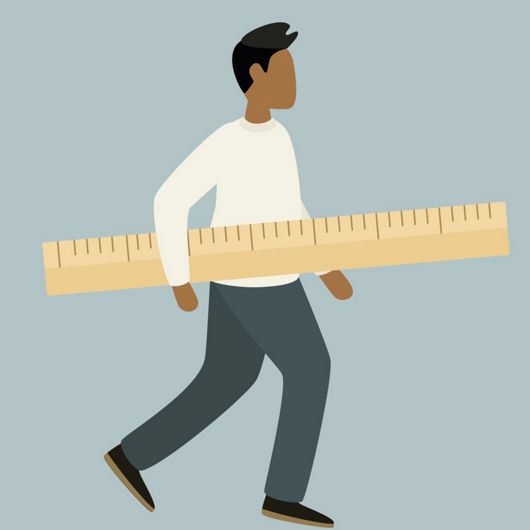 How to Find Her Ring Size
How to Find Her Ring Size
Did you know you can download a ring sizer right off the Shane Co. website?
Click here
to download our PDF and easily discover her ring size. You can also try borrowing a ring she owns and bringing it in for us to look at in-store. That way, there's no need to ruin the surprise!
Of course, if you're worried about getting it wrong, we offer free resizing as part of our best-ever Free Lifetime Warranty. You can learn more about our resizing policy
here.
Different Types of Engagement Ring Settings
Different Types of Engagement Ring Settings
When looking at the different types of engagement ring settings, it can be useful to get an idea of what different words mean when it comes to your engagement ring.
Prongs: These are the small pieces of metal that actually hold your center stone in place, a part of what is called the "head" of the ring.

Pavé:

Pavé stones are small diamonds or gemstones set close together. A pavé setting usually entails having these diamonds on part or all of the band of the ring, surrounding your center stone.

Channel-set:

A channel-set ring means the stones are set between two walls of metal. This can entail only the stones on the band or the center stone as well.

Halo:

This type of setting features having your center stone surrounded by a "halo" of diamonds or gemstones.

Bezel: A bezel setting means the center stone is not held in place by prongs, but rather by a metal rim that surrounds the stone.

Solitaire:

A solitaire engagement ring features the center stone with a plain band, putting the diamond center stage.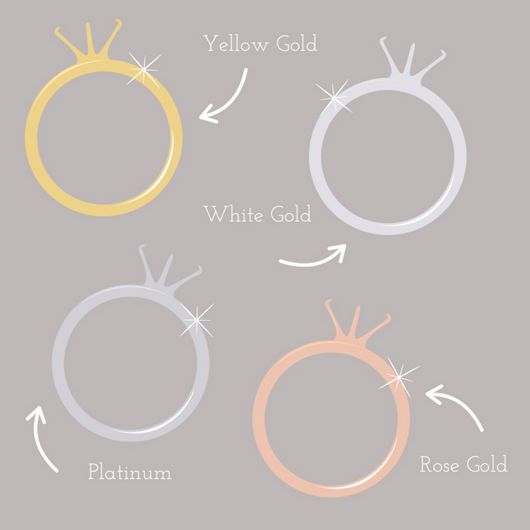 Choosing the Right Metal for Your Engagement Ring
Choosing the Right Metal for Your Engagement Ring
What metals does Shane Co. carry?
We offer
engagement ring
settings in 14k yellow, white, and rose gold, as well as platinum. There are unique benefits to every metal that we carry. 14k yellow gold offers a classic look that can actually make your diamond look whiter and brighter, while white gold creates an elegant and goes-with-everything style. Our signature shade of rose gold looks gorgeous with colorful stones and diamonds, while platinum offers unparalleled durability.
What's the difference between gold and platinum?
White gold is comprised of gold and other alloys, while platinum is more pure in its composition. While platinum is generally considered more durable, it is still a softer metal than gold, as well as heavier. Platinum may be more prone to scratches, but over time this will create a patina that offers a desirable vintage look. As always, our Free Lifetime Warranty, including regular cleanings and inspections, will keep your ring looking beautiful for life.
What If I Want to Use My Own Diamond?
What If I Want to Use My Own Diamond?
It's not uncommon for families to pass down
diamonds
as heirlooms for the next generation. If you love the look of a Shane Co. ring setting but would rather pair it with a diamond you already own, no problem! Our jewelers will be happy to set your diamond. Since the stone was not purchased from us, there may be some fees associated with labor costs, depending on the size of the stone. You can chat with us online or speak with a jewelry consultant in-store to learn more.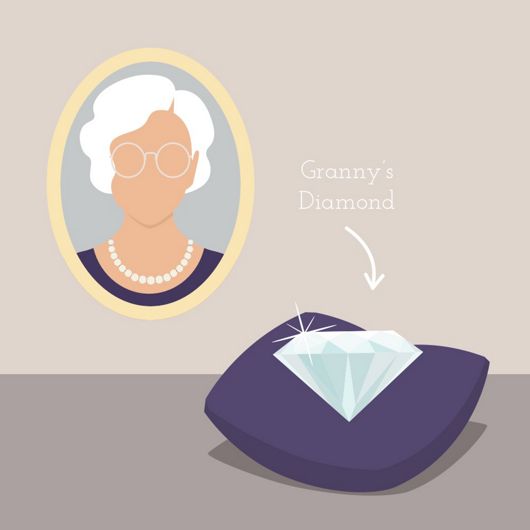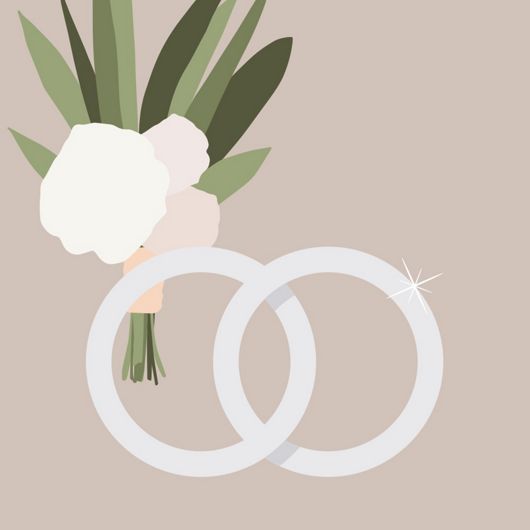 Wedding Bands
Wedding Bands
Wedding bands
are the rings that both you and your partner receive when you get married. They're generally placed on each other's fingers during the wedding ceremony to symbolize the commitment you're making to one another.
You can purchase your wedding bands at any time after or with the engagement ring. Shane Co. offers wedding band sets that you can buy along with the engagement ring for a perfect match, or you can shop alone or with your partner after the proposal.
From simple gold bands to something totally customized, finding the right wedding band can be a fun and engaging process for both members of the couple. If you need some help, you can
book a virtual or in-store appointment
to speak with one of our expert jewelry consultants.