Item
has been added to your cart
VERIFY YOUR EMAIL
Please check your email for directions to activate your account.
Reset Password
Please check your email for directions to reset your password.
Welcome to ShaneCo.com. We are proud and pleased to offer an opportunity to experience Shane Co. on-line. As an employee or immediate family member, please read and agree to the following terms and conditions of the WSM employee purchase agreement.
As stated in the WSM Company Handbook, "employees may purchase merchandise at a reduction from normal selling price, provided that the merchandise is solely for either the employee's own use or for that of his or her IMMEDIATE family." Immediate family is defined as follows: Employee's spouse, spousal equivalent, daughter, son, mother, father, sister, brother, grandparent, grandchild, mother-in-law, father-in-law, son-in-law, daughter-in-law, brother-in-law, sister-in-law, step-parent, or step-child, or a person who is legally acting in one of the above capacities, or another relative living in the employee's residence.
Employees are eligible for the employee discount privilege after receipt of their first pay stub from Western Stone & Metal.
I understand and agree my password is unique to me and cannot be shared with anyone.
I agree I will not purchase any merchandise for the purpose of resale.
I agree I will not purchase any merchandise in proxy for others.
I agree I will not distribute or share, and will keep the employee price confidential.
Any misuse of this employee benefit will result in the loss of such benefit to the employee and all qualified family members stated above, as determined by the VP of Human Resources.
Any employee violation, or violation by a family member, of the Company's EMPLOYEE PURCHASE POLICY, Section IV-L of Company Handbook could result in progressive counseling action being taken with the employee up to and including termination.
Email Us
All fields are required unless marked "Optional"
To contact a store directly, please visit the
Store locator
.
Thank You !
Your email has been sent

Shane Co. & Kids In Need Foundation Announce Donation and Partnership
More than 9,000 students and 375+ teachers across 13 states to benefit from $100K Shane Co. donation
DENVER, CO., Dec. 1, 2020 -- Today Shane Co., the largest family-owned jewelry company in the United States, released the details of the company's largest charitable commitment in 2020. Kids In Need Foundation (KINF) was selected by the majority of employees in an internal vote. KINF reflects the strong core values and family focus that is the foundation for the success of the fourth-generation company with 20 retail locations across the U.S.
In addition to giving all employees three paid days to volunteer, Shane Co. announced a $100,000 donation to KINF. In the first phase, school supplies and backpacks were provided for over 4,500 K-5 students for the current fall semester. Shane Co. employees volunteered over 800 hours to fill backpacks with school supplies for students in local under-resourced schools. The second phase will include an additional round of backpack builds in all Shane Co. markets to provide supplies for the spring 2021 semester, supporting a total of 375 classrooms and over 9,000 students in under-resourced schools.
"I strongly believe that change only happens when addressing the root of the cause and to me that means bringing equality to education in underserved communities," said Rordan Shane, President and CEO of Shane Co. "We're honored to give both volunteer time and money to such a worthy cause and support under-resourced teachers and students in every city where Shane Co. has a presence."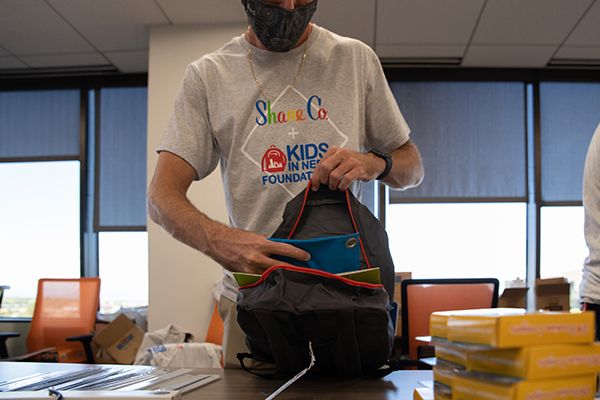 Shane Co. employee puts together a backpack full of supplies for local under-resourced students
"As we continue to build upon the new partnership with Shane Co., a company that has made family and giving back to its community a priority," said Corey Gordon, CEO of KINF, "Shane Co.'s leadership and staff have demonstrated a strong commitment to education through this partnership and their collaborative efforts to ensure under-resourced students in their backyard are prepared to learn."
Kids In Need Foundation is a national organization that provides the support and tools needed for teachers to teach and learners to learn. KINF programs and initiatives are focused on schools with a student enrollment of 70% or more participating in the National School Lunch Program (NSLP).
By partnering with teachers and students in under-resourced schools, KINF helps combat absenteeism by ensuring students are properly equipped to learn and empowers teachers by supplying them with adequate resources. Absenteeism, coupled with teacher attrition, are more prevalent in underserved communities. These factors create an opportunity gap with lifetime repercussions. Children of color are more than two times more likely to be born into poverty, and they constitute nearly half of all children in American public schools (Source: Economic Policy Institute, 2019). The collaboration between Shane Co. and KINF aims to create equitable learning environments by supporting schools where the enrollment is primarily composed of students who are Black, Indigenous, and children of color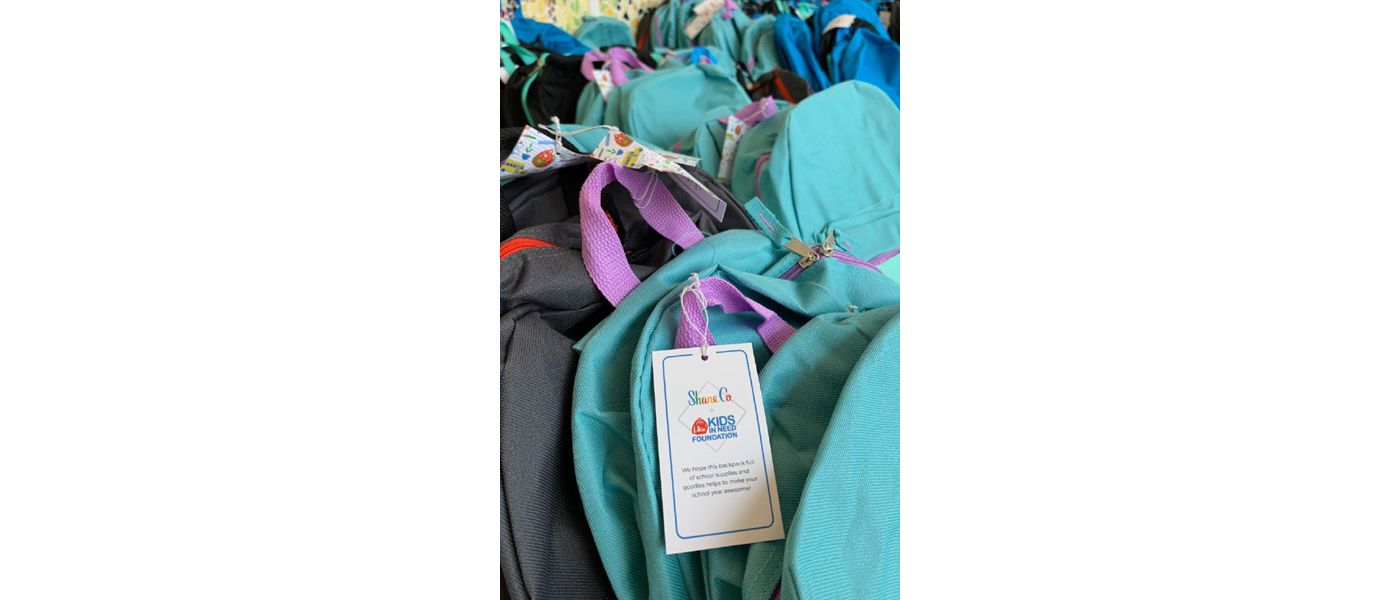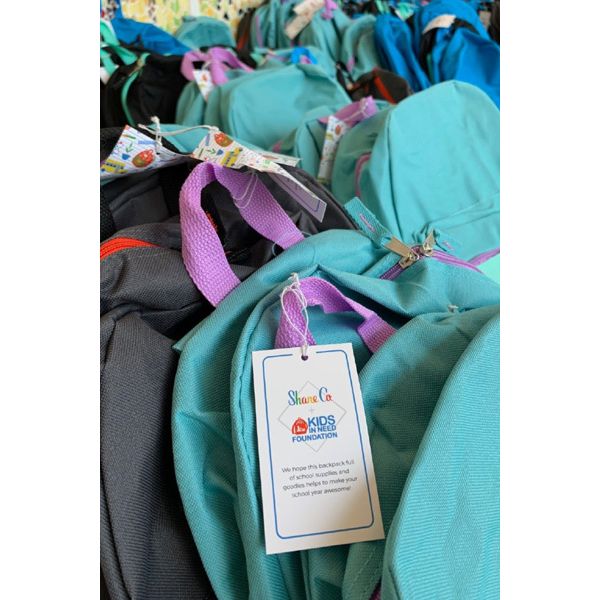 Backpacks full of school supplies ready for donation
The 2020-2021 school year marks the beginning of an ongoing partnership between Shane Co. and Kids In Need Foundation.
About Shane Co.
The Colorado-based company is a fourth-generation, family-owned jeweler committed to offering fine jewelry of the highest quality, from diamonds and engagement rings to gifts for any occasion. Shane Co. is a direct importer of diamonds, rubies, sapphires, pearls, and other gemstones and operates 20 stores in 13 states, as well as an online store at www.ShaneCo.com. The jeweler is recognized in the industry as a price leader offering the finest array of customer benefits, including a Free Lifetime Warranty and a 60-day Money-back Guarantee. More than just a jewelry store, Shane Co. is your friend in the jewelry business
About KINF
Kids In Need Foundation provides the support and tools needed for teachers to teach and learners to learn. A quality education is the best gateway to opportunity and students cannot achieve their full potential without it. With a focus on supporting teachers and students in schools most in need nationwide, Kids In Need Foundation believes that every child in America should have equal opportunity and access to a quality education. Founded in 1995, Kids In Need Foundation, a national 501(c)(3) charitable organization, has distributed $1 billion in school supplies since its inception. For more information, visit KINF.org, and join us on Facebook, Twitter, & Instagram: @KidsInNeed.
Media Relations Contact:
Mimi Wogtech
press@shaneco.com
Lindsey Mitchell, Kids In Need Foundation
lmitchell@kinf.org