Item
has been added to your cart
VERIFY YOUR EMAIL
Please check your email for directions to activate your account.
Reset Password
Please check your email for directions to reset your password.
Welcome to ShaneCo.com. We are proud and pleased to offer an opportunity to experience Shane Co. on-line. As an employee or immediate family member, please read and agree to the following terms and conditions of the WSM employee purchase agreement.
As stated in the WSM Company Handbook, "employees may purchase merchandise at a reduction from normal selling price, provided that the merchandise is solely for either the employee's own use or for that of his or her IMMEDIATE family." Immediate family is defined as follows: Employee's spouse, spousal equivalent, daughter, son, mother, father, sister, brother, grandparent, grandchild, mother-in-law, father-in-law, son-in-law, daughter-in-law, brother-in-law, sister-in-law, step-parent, or step-child, or a person who is legally acting in one of the above capacities, or another relative living in the employee's residence.
Employees are eligible for the employee discount privilege after receipt of their first pay stub from Western Stone & Metal.
I understand and agree my password is unique to me and cannot be shared with anyone.
I agree I will not purchase any merchandise for the purpose of resale.
I agree I will not purchase any merchandise in proxy for others.
I agree I will not distribute or share, and will keep the employee price confidential.
Any misuse of this employee benefit will result in the loss of such benefit to the employee and all qualified family members stated above, as determined by the VP of Human Resources.
Any employee violation, or violation by a family member, of the Company's EMPLOYEE PURCHASE POLICY, Section IV-L of Company Handbook could result in progressive counseling action being taken with the employee up to and including termination.
Email Us
All fields are required unless marked "Optional"
To contact a store directly, please visit the
Store locator
.
Thank You !
Your email has been sent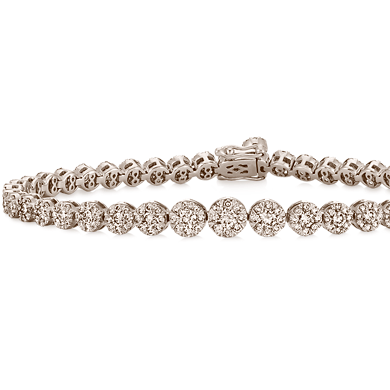 Bracelets
The best kind of arm candy. Shane Co. has hundreds of exclusive styles from fun and fashionable to vintage and timeless. Whether you're looking for diamonds, rubies, sapphires, pearls, gemstones, or all-metal designs, we'll care for your Shane Co. bracelets for free, for life.
Bracelets from Shane Co.

Bracelets are the perfect accent to every outfit. Mix and match your metals for an on-trend look by stacking multiple bangles together in rose, white and yellow gold. Browse our versatile and quality collection of bracelets from everyday styles to luxurious diamond, ruby and sapphire-lined bracelets.

What bracelet styles does Shane Co. offer?

Shane Co. carries a large selection of beautiful bracelets featuring colorful gemstones, diamonds and all-metal designs. With dozens of exclusive styles, you're sure to find a design that's truly unique. We carry everyday cuffs, layered chain bracelets, engraved bangles and statement-making diamond tennis bracelets. Our diamonds and stones are hand-selected for their brilliance, color and sparkle.

What are Shane Co.'s bracelets made of?

Our unique bracelets are handcrafted with durable white, rose and yellow gold as well as stainless steel, sterling silver and leather. In addition to our metal styles we carry a beautiful variety of pearl bracelets created with dark Tahitian pearls, freshwater, akoya and South Sea pearls.

Can I buy bracelets with gemstones from Shane Co.?

Gemstones give bracelets eye-catching color and sparkle. Shane Co. offers hundreds of bracelets accented with a variety of stones including diamonds, sapphires, rubies and semi-precious stones. Our diamonds and stones are hand-selected from around the world, ensuring you get the prettiest color and sparkle. Browse our colorful assortment of bracelets adorned with amethyst, topaz, peridot and morganite stones, as well as our bright sapphires in shades of blue, lavender, pink and green.

Does Shane Co. sell men's bracelets?

We carry an excellent selection of men's bracelets featuring rugged and unique styles crafted from sterling silver, carbon fiber, gold, leather and more. Browse classic chain bracelets from link and figaro chains to diamond-cut and rope designs. Engrave a bracelet for a personal touch or shop our edgy leather and woven styles.