Item
has been added to your cart
VERIFY YOUR EMAIL
Please check your email for directions to activate your account.
Reset Password
Please check your email for directions to reset your password.
Welcome to ShaneCo.com. We are proud and pleased to offer an opportunity to experience Shane Co. on-line. As an employee or immediate family member, please read and agree to the following terms and conditions of the WSM employee purchase agreement.
As stated in the WSM Company Handbook, "employees may purchase merchandise at a reduction from normal selling price, provided that the merchandise is solely for either the employee's own use or for that of his or her IMMEDIATE family." Immediate family is defined as follows: Employee's spouse, spousal equivalent, daughter, son, mother, father, sister, brother, grandparent, grandchild, mother-in-law, father-in-law, son-in-law, daughter-in-law, brother-in-law, sister-in-law, step-parent, or step-child, or a person who is legally acting in one of the above capacities, or another relative living in the employee's residence.
Employees are eligible for the employee discount privilege after receipt of their first pay stub from Western Stone & Metal.
I understand and agree my password is unique to me and cannot be shared with anyone.
I agree I will not purchase any merchandise for the purpose of resale.
I agree I will not purchase any merchandise in proxy for others.
I agree I will not distribute or share, and will keep the employee price confidential.
Any misuse of this employee benefit will result in the loss of such benefit to the employee and all qualified family members stated above, as determined by the VP of Human Resources.
Any employee violation, or violation by a family member, of the Company's EMPLOYEE PURCHASE POLICY, Section IV-L of Company Handbook could result in progressive counseling action being taken with the employee up to and including termination.
Email Us
All fields are required unless marked "Optional"
To contact a store directly, please visit the
Store locator
.
Thank You !
Your email has been sent
Stud / Solitaire
A stud - also known as a solitaire - is an earring that features only one gem. The head containing the gem is soldered directly to the post, which goes straight through the ear, giving the appearance that the gemstone is 'floating' on the ear.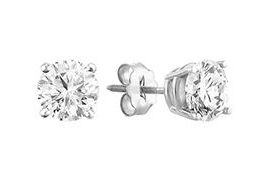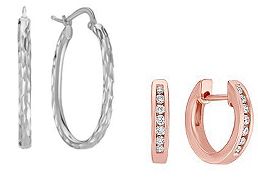 Hoop
A hoop earring is a continuous piece of metal that goes through the ear and is then held in place, typically by a latch back or friction back. They are not always round and can come in a variety of different shapes - the most common untraditional shape being oval.


Drop
Also referred to as dangle earrings, this style hangs below the earlobe and can either move or be still. Drop earrings offer the widest variety of fashion styles. They can end just centimeters below the earlobe or can reach all the way down to the shoulder.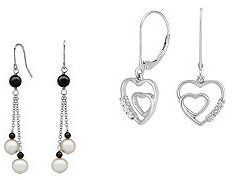 Friction
This is the most common type of earring back offered in the jewelry industry, requiring no screwing to put on or take off the earring. Also called a butterfly back, it can be used with any style of earring, whether it is a stud, hoop or drop.
 

---
Push on/Screw off
Push on/screw off earrings are a little quicker to put on than screw on/screw off styles. The wearer can push on the earring back, and then unscrew it to take off the earring. Push on/screw off posts are typically used with studs and drop earrings.
 

---
Lever Back
Lever Backs also have a curved wire hook but are latched behind the ear with a lever that opens and closes. These are only used with drop earrings.
 

---
French Wire
Only used with drop earrings, this style has no back to it. It is a curved wire hook that the earring itself can be attached to.
 

---
Latch Back
Used mainly for hoops, there are two styles of latch backs: one has the post on a hinge and clips into a notch on the back of the earring. The second has an immobile post and a lever-style back that has a hole for the post to slide in to.
 

---
Screw on/Screw off
Screw on/screw off fasteners require the wearer to screw the back of the earring onto and off of a post threaded through the ear. This is an older style fastener, which has been replaced by the push on/screw off style, but is available upon request for added security or to repair an older earring with this post type.