Item
has been added to your cart
VERIFY YOUR EMAIL
Please check your email for directions to activate your account.
Reset Password
Please check your email for directions to reset your password.
Welcome to ShaneCo.com. We are proud and pleased to offer an opportunity to experience Shane Co. on-line. As an employee or immediate family member, please read and agree to the following terms and conditions of the WSM employee purchase agreement.
As stated in the WSM Company Handbook, "employees may purchase merchandise at a reduction from normal selling price, provided that the merchandise is solely for either the employee's own use or for that of his or her IMMEDIATE family." Immediate family is defined as follows: Employee's spouse, spousal equivalent, daughter, son, mother, father, sister, brother, grandparent, grandchild, mother-in-law, father-in-law, son-in-law, daughter-in-law, brother-in-law, sister-in-law, step-parent, or step-child, or a person who is legally acting in one of the above capacities, or another relative living in the employee's residence.
Employees are eligible for the employee discount privilege after receipt of their first pay stub from Western Stone & Metal.
I understand and agree my password is unique to me and cannot be shared with anyone.
I agree I will not purchase any merchandise for the purpose of resale.
I agree I will not purchase any merchandise in proxy for others.
I agree I will not distribute or share, and will keep the employee price confidential.
Any misuse of this employee benefit will result in the loss of such benefit to the employee and all qualified family members stated above, as determined by the VP of Human Resources.
Any employee violation, or violation by a family member, of the Company's EMPLOYEE PURCHASE POLICY, Section IV-L of Company Handbook could result in progressive counseling action being taken with the employee up to and including termination.
Email Us
All fields are required unless marked "Optional"
To contact a store directly, please visit the
Store locator
.
Thank You !
Your email has been sent
About Us
A Commitment to Excellence Since 1929
By Tom Shane

Since I founded Shane Co. in 1971, we have grown to become America's largest family-owned jeweler and the leading Direct Diamond ImporterTM. My family's tradition of excellence in the diamond and jewelry business has been passed down for nearly 90 years and over four generations.

My grandfather, Charles Shane, purchased his first jewelry store in Cleveland, Ohio, in 1929. It was the year of the stock market crash and the beginning of the Great Depression. As difficult as business was in general, the jewelry business was nearly impossible. But his persistence and commitment to quality, value and customer service persevered through the hardest economic times in American history.

My dad, Richard Shane, joined the family enterprise following his World War II military service. Over the years, he piloted a single store into one of the largest jewelry chains in the Midwest.

In 1971, I decided to start my own jewelry business. I incorporated my father's and grandfather's commitment to quality, value and customer service, in addition to offering customers a unique educational opportunity. My vision was to make sure that all of our customers had enough knowledge about their jewelry options to make truly informed purchasing decisions.

Today, my son Rordan works by my side, carrying on the Shane family tradition.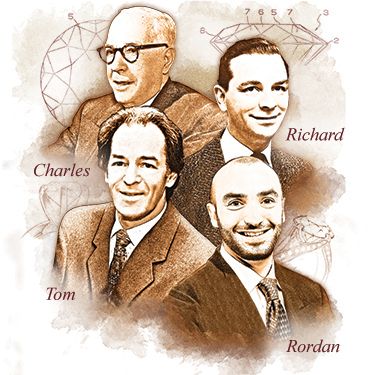 Our Philosophy

Our Customers...
Should find us the best place to meet their needs

Our Team Members...
The best company to work for

Our Community...
A fine example of what business should be

Our Vendors...
Their favorite account

Our Goal...
To proudly and profitably have fun
The Fourth Generation of Superior Quality, Value & Service
By Rordan Shane

Since 2008, I've been helping my father Tom run Shane Co. Like my dad, I take a hands-on approach … talking with our customers, working with our designers, and traveling overseas to maintain the relationships with the diamond cutters that our family has worked with for generations.

I'm passionate about the work we do, and I'm grateful for the values I learned from my mom and dad … Honesty. Integrity. Treating customers like family. And offering the best value for jewelry that will last a lifetime.

We're proud that generations of customers choose Shane Co. as their trusted jeweler for life, and we're proud to be Your Friend in the Jewelry Business®.
Since those early days, the Shane Co. has grown tremendously. Yet as we grow, some elements of Shane Co. remain constant:
• We buy our diamonds and other gems first hand, directly from the cutters in Antwerp, Tel Aviv, Bangkok and Mumbai. In other words, you pay no middleman markup. • We provide an Unconditional 60-day Money-back Guarantee. If you are not completely satisfied - for any reason - we will refund your purchase price. • With our knowledge, experience, guarantees and solid values, we are your absolute best resource for that important diamond purchase. • Our advertising emphasizes the truth about our business and reflects our commitment to honesty. • Our web site is an extension of the selection, service and professionalism customers experience in any of our stores. As a progressive, customer-driven company, we are dedicated to making jewelry buying even more comfortable, convenient and satisfying for our guests.
Shane Co. Warranty
Our Free Lifetime Warranty means you won't have to spend a penny more on your ring for the rest of your life. Bring it in every six months for free re-plating, re-sizing, re-tipping, repair, and we'll even replace the center gemstone if you lose it at no charge! We want your ring to look its best for the rest of your life, so we take care of everything with no maintenance agreements or hassles.

• Free Repair* • Free Maintenance* • Free Inspections* • Free Resizing* • Free Cleaning* • Free Polishing* • Free Lost Stone Replacement*


Price Comparison
Average Retail Jeweler's Fees vs. Shane Co.




After you buy the ring, everything else is free. We can save you thousands on your engagement ring over it's lifetime.
Services over 20 Years
Expected # of occurrences
Other Jewelers
Shane Co.
Replace Center Diamond
Hopefully never
Up to thousands
Included
Replace Side Diamonds
Infrequently
Up to thousands
Included
Resizing
3 times
$200+
Included
Retipping Prongs
6 tips
$110+
Included
Rhodium Finish
4 times
$220+
Included
Shank Repair
Once
$75+
Included
Solder Ring and Band
Once
$35+
Included
Fixing Crooked Prongs
Once
$75+
Included
Estimated Total Cost
$715 up to thousands
$0