Shane Co. Announces
Fall Kickoff with Sapphire Soirée on September 22
Portland's Top Bloggers, Fashionistas and Fans of Jewelry Will Celebrate September's Official Gemstone at Exclusive Party at Tigard Store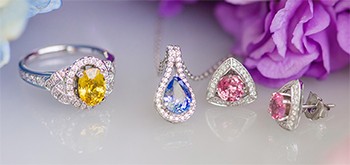 PORTLAND, OREGON – [August 23, 2016] – Shane Co., one of the most famous jewelry stores in Oregon, announced today that it will host the Sapphire Soirée at its store in Tigard on Thursday, September 22 from 6pm-9pm. The party will feature sips, snacks and sparkles in Shane Co.'s sprawling showroom near Washington Square Mall, where guests will get an exclusive look at the most fabulous sapphire jewelry styles for fall.
Sapphires, the symbolic gemstone for September birthdays, will be displayed loose in a variety of shapes and sizes, and will also be featured in engagement rings, wedding bands, stackable rings, pendants, bracelets and earrings. Each sapphire is personally selected by Shane Co. founder and CEO Tom Shane, who chooses each gemstone for its natural beauty and vibrant color. Sapphires in traditional blue, ice blue, Kentucky blue, pink, lavender, green, orange, yellow, white and black will be available to try on and for purchase.
Portland's top fashion bloggers will co-host the party and model their favorite sapphire jewelry pieces. Lavenda, professional photographer, stylist and author of LavendasCloset, has been featured in German Cosmo, Portland Monthly, Teen Vogue and other major publications and ad campaigns. Crystalin Marie is a fresh face on the Portland fashion scene. The author of fashion and lifestyle destination website CrystalinMarie.com, she is known for her stunningly curated Instagram posts that reach over 50,000 followers.