Shane Co. Wins
Best Fine Jewelry Award
in Magazine's Readers' Poll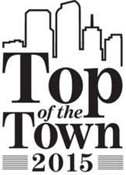 DENVER, COLORADO – July 9, 2015 – Shane Co., the largest family-owned jeweler in the United States, has won the Readers' Choice award for Best Fine Jewelry in 5280 Magazine's 2015 Top of the Town awards, honoring "the best of the best" around Denver, Colorado. The announcement was made on 5280's website on July 1. Readers voted for their favorite businesses using a write-in format.
"I started Shane Co. in Denver in 1971 and it has been our hometown ever since. So it is especially rewarding to receive this recognition from readers in the area and we are grateful for all of our customers who have helped us continue to shine throughout the years," said Tom Shane, founder and chief executive officer of Shane Co.
"We are proud to offer the highest-quality bridal and fashion jewelry in town, as well as the finest jewelry-shopping experience in the industry. It's great to be recognized as the best of the best," added Shane Co. President Rordan Shane. "We look forward to serving our customers for generations to come."