Shane Co. Taps Growing Demand for Engagement Rings With Colored Gemstones
Shoppers Drawn by Jeweler's Strength in Stone Sourcing and Selection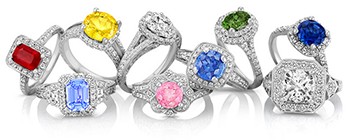 DENVER, CO--(Marketwired - Mar 5, 2015) - According to an online report on CNN Money, increasing numbers of brides are opting for engagement rings with colored gemstones rather than traditional diamond solitaires. Shane Co., the largest independently owned retail jeweler in the United States, is at the forefront of this trend as the nation's leading direct importer of colored gemstones including natural rubies, and natural sapphires in a wide range of colors.
"Colored gemstones have been growing in popularity for the past few years and the trend is especially evident with our Millennial customers," said Tom Shane, founder and chief executive officer of Shane Co. "Colored gemstones appeal to brides-to-be who want their engagement ring to have a non-traditional look that stands out. For some couples, a colored stone is a more affordable option than a diamond. Because we have the largest selection of loose colored stones in the country, as well as hundreds more engagement ring settings than any of our competitors, our customers are able to create the exact engagement ring they had envisioned for themselves."
In addition to diamonds, Shane Co. has specialized in natural rubies and sapphires for decades. Tom Shane is recognized in the international gemstone trade as a leading expert on rubies and sapphires. Shane makes regular buying trips to the gemstone cutters in Bangkok, Thailand, where he handpicks each stone for Shane Co. He typically has many of the stones re-cut to his specifications to maximize each stone's brilliance and value.
"Colored stones are a real passion for me," Tom Shane said. "I'm proud to show all of the possibilities to our customers who are interested in a ruby or sapphire for their engagement ring."
Shane Co. carries loose rubies and sapphires in a variety of shapes including round, oval, marquise, pear-shaped, heart-shaped, cushion cut, emerald cut and radiant cut. Their sapphire colors include traditional blue, Kentucky blue, ice blue, green, pink, yellow, lavender, orange, white and black.
"The growth in our colored stone business has not been limited to bridal," said Deb Harvey, Shane Co.'s vice president of merchandising. "More and more women are gravitating to colored stones as a way to make bold fashion statements and add more personality and glamour to their wardrobes. To meet this demand, we have expanded our selection of natural colored stones beyond rubies and sapphires to include amethyst in a variety of shades, garnet, quartz, peridot, aquamarine, iolite and other stones."