Titanium is a lightweight metal that has good strength, excellent resistance, and won't tarnish or rust. It is a lustrous white color when pure – almost resembling sterling silver. It won't cause irritation or discoloration of the skin, making it ideal for sensitive skin types.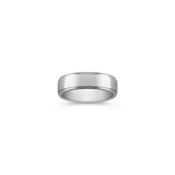 Titanium will almost never break or bend, though it can scratch. It has a high melting point of 3,135°F and a rating of 6 on the Mohs Scale of Hardness. Shane Co.'s jewelers can polish out light scratches and apply a light finish to the metal; however, polishing and finishing are the only two alterations that can be made – it cannot be sized, soldered, etc.

Titanium is a popular choice because it is strong and hypoallergenic, and will last a lifetime. It also won't fade in sunlight or react to saltwater like some other metals do.