The manufacturing of sterling silver has come a long way. New alloys and alloy combinations are used to resist tarnish, and with the refinement of the manufacturing process, sterling silver will maintain its look of beauty. Due to the superior methods in which Shane Co. jewelry is manufactured, our sterling silver pieces that are rhodium plated will not require re-rhodium plating over time.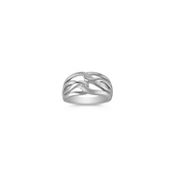 Many of the styles we carry are handmade; you can see the craftsmanship in each unique piece. Like gold, silver is very ductile and malleable, rating a 2.7 on the Mohs Scale of Hardness, as compared to gold's 2.5 rating. This makes silver easy to manipulate and a perfect choice for handmade pieces.

Traditional sterling silver is 92.5% silver and 7.5% copper with traces of nickel, which is what can cause an allergic reaction in people with intense jewelry allergies. These allergies can be avoided through rhodium plating, since rhodium is hypoallergenic.

Silver has a white color and a brilliant metallic luster that can withstand a high degree of polish.