Everything else you need to know about
one of nature's greatest wonders.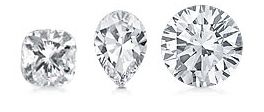 ---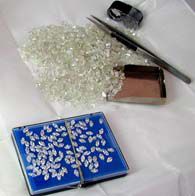 Other Factors to Consider
You've shopped, you've surfed, you've read, you've consulted with family and friends. You have a good idea how cut, color, clarity and carat size affect the quality and price of a diamond. So what do you do? How do you decide which diamond is the perfect expression of your sentiments - and your beloved's expectations?
Style seeking
Start by determining the shape of diamond you plan to buy. Brilliant round or a fancy cut? If the two of you have been shopping together (or she's been dropping not-so-subtle hints) you'll have this narrowed down. But if you're planning to surprise her, you'll need to do some homework.
Try to remember: has she pointed out a particular shape of diamond in a window - or on one of her friends? That's a big clue. You can also ask one of her close friends or a relative for advice - if you can swear them to secrecy.
Otherwise, you'll have to rely on your powers of observation and your instincts. What is her style when it comes to clothing? If your bride-to-be's taste tends to classic styles in traditional cuts, you probably can't go wrong with a timeless brilliant round diamond in a prong "Tiffany" setting. If she's a more adventurous dresser, seeking out designer styles or more of an individualist, it might be time to think beyond tried and true. Consider a fancy-cut gemstone, or a center gemstone accented with other gemstones.
How much should I spend?
Chances are, you've heard the diamond industry's advice to spend the equivalent of two months' salary on an engagement ring. But while that amount is fairly well accepted, what to spend is entirely up to you! Only you can decide what makes sense for your circumstances.
Unlike other jewelry or gifts, the diamond engagement ring is the symbol of everlasting love. That doesn't mean you should have to spend a lifetime paying for it. That's why we offer so many loose diamonds in all price ranges.
Why have you chosen the person you want to spend the rest of your life with? Because she's beautiful to you, and you value her personal qualities. She's one of a kind.
The diamond you buy should also reflect good taste, attention to quality and individuality. Every love is unique, and so is every diamond. Educate yourself to learn what you (and your fiancée) like. Then trust that Shane Co. will help you find the diamond and engagement ring setting that are absolutely perfect - whatever you choose to spend.