Heart Fashion Rings
A Little Something . Specially Curated Gifts for .
Could not load menu!
Could not load search results!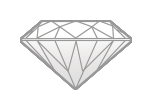 Heart Rings from Shane Co.
Heart rings beautifully combine the classic symbol of love with modern design elements. Add a heart-shaped ring to your jewelry collection or find a romantic gift for a special someone.
What kinds of heart rings does Shane Co. offer?
We believe your jewelry should be as unique as you are, and Shane Co.'s collection features a wide variety of heart-shaped rings to match every style and budget. We offer multiple ring options in the following categories:
Metal Type: As you begin browsing, choose your favorite metal. We offer cute heart rings crafted from quality 14k white, yellow or rose gold, sterling silver and a combination of sterling silver and gold.
Gemstone: Shane Co. has an unmatched selection of natural, high-quality gemstones. Choose from diamonds, rubies, sapphires in a range of colors and semi-precious stones for a heart ring that truly sparkles.
Price: Investing in a beautiful ring doesn't have to mean overspending. That's why we offer a filter option for price, making it easy to browse rings that fit your budget.
Are heart-shaped stones appropriate for a promise ring?
Some of our most popular promise rings include a heart-shaped gem. Promise rings are a beautiful gesture of commitment, and it's easy to express your adoration with this symbol of love.
Heart designs can also be found in both engagement rings and anniversary rings and come in a variety of styles.
Are heart rings strictly a romantic gift?
While heart rings are a traditionally romantic gift, we've created a selection of rings that make great gifts for anyone on your list. To celebrate a wonderful mom, choose a ring featuring the birthstones of her children. If you're looking for the perfect graduation gift for your daughter, one of our three-stone fashion rings will become a treasured keepsake.
Does Shane Co. offer other ring styles?
If you haven't found the perfect ring, you can browse our assortment of pre-set women's fashion rings to add a beautiful new piece to your collection. From stackable rings to sparkling three-stone rings, Shane Co. offers stunning accessories to complement any woman's wardrobe.