Fashion Rings
A Little Something . Specially Curated Gifts for .
Could not load menu!
Could not load search results!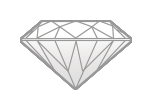 Cocktail Rings from Shane Co.
Cocktail rings are designed to catch the eye. If you're looking for a statement accessory, browse Shane Co.'s collection of unique cocktail rings.
What is a cocktail ring?
The name "cocktail ring" hints at its origins. To examine the history of this style, let's take a look back to the Roaring Twenties.
The Prohibition era saw eager cocktail drinkers flock to secret nightclubs called speakeasies. The stylish and independent women of this era rejected the traditional fashion status instead, they embraced luxury, accessorizing with large, ornamental rings. They'd sport these rings while holding illicit cocktails, and thus the term "cocktail ring" was born.
These beautiful pieces tend to be larger than the average ring, and they're created with sparkle and extravagance in mind. Find fashion cocktail rings that incorporate a variety of stones for a sparkling effect.
What are the defining characteristics of a fancy cocktail ring?
Cocktail rings can be defined in two words: big and brilliant. Bold cocktail rings make a statement and when it comes to unique fashion rings, there's a simple guiding rule: the more sparkle, the better. For a cocktail ring that's even more unique, look for a style that features colorful gemstones.
Women's cocktail rings incorporate a variety of stone shapes, from the classic princess cut to romantic heart-shaped rings. Select from Shane Co.'s wide variety of cocktail rings that incorporate beautiful, ethically sourced gems for a truly special piece you won't find anywhere else.
To put your own personal spin on your jewelry collection, you can design your own ring with gemstones that are meaningful to you.
Which ring styles does Shane Co. offer?
Shane Co. offers a gorgeous variety of ring styles, including everything from large cocktail rings to simple, classic bands. Browse three-stone rings that incorporate your favorite gemstones or shop from an assortment of customizable rings to create matching rings for your loved ones.