Anniversary Rings
A Little Something . Specially Curated Gifts for .
Could not load menu!
Could not load search results!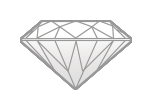 Anniversary Rings from Shane Co.
Whether you're approaching your 5th anniversary or your 60th, anniversary rings are a wonderful way to celebrate a milestone in your relationship. Shop unique anniversary rings from Shane Co. and make your anniversary one to remember.
How do I wear an anniversary ring?
There are three basic ways to wear your anniversary ring:
With your wedding ring: Some couples choose to add a band to their pre-existing wedding set. Men's anniversary bands come in a variety of metals, and some are set with colorful gemstones. Anniversary rings for women may feature diamonds, and many of our designs are set with rubies and sapphires for a unique pop of color.
In place of the wedding ring set: Some couples purchase anniversary diamond rings to replace their wedding ring set. Men sometimes choose a ring in a new metal, while women replace their bridal set completely, oftentimes choosing to pass it down to a child or grandchild as a family heirloom.
On another finger: Some couples simply want to add a bit more sparkle and wear an anniversary ring on another finger in addition to their wedding rings. Many women choose to wear their anniversary rings on the right hand for a balanced look, especially if the ring has a more intricate design.
Do Shane Co. anniversary rings incorporate gemstones?
There are three basic ways to wear your anniversary ring:
Shane Co. offers a variety of men's and women's anniversary rings, and many of our designs include stunning gemstones, including natural, handpicked diamonds, rubies and sapphires. 
Whatever relationship milestone you're celebrating, Shane Co.'s team of jewelry experts is here to help you find the perfect ring. Explore our selection of promise rings for her, engagement rings and diamond wedding rings to commemorate your special occasion.