Heart Necklaces
A Little Something . Specially Curated Gifts for .
Could not load menu!
Could not load search results!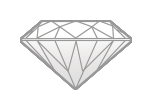 Heart-Shaped Necklaces from Shane Co.
Classically beautiful with modern appeal, a heart necklace is a lovely addition to your jewelry box. Choose from Shane Co.'s collection of unique and exclusive designs to find high-quality pieces you'll love for a lifetime.
For a romantic, thoughtful and meaningful gift for the special woman in your life, heart pendant necklaces are a beautiful gesture. 
What metals can I choose from?
When shopping for a necklace with a heart, you can choose from multiple metal types: 
Gold: Shane Co. offers a wide variety of heart-shaped necklaces crafted from high-quality 14k gold. Find both large and small heart necklaces in white gold, rose gold, yellow gold or two-tone gold.
Sterling Silver: Our sterling silver styles offer beautiful shine. Sterling silver is versatile, and our necklaces complement a variety of outfits. You can also find heart necklaces made of a combination of sterling silver and gold.
Does Shane Co. offer heart necklaces with gemstones?
We offer heart necklaces showcasing a variety of gemstones, including rubies, colorful sapphires, pearls and semi-precious stones such as amethyst and garnet.
What kinds of necklace styles does Shane Co. offer?
Browse hundreds of necklace styles, ranging from elegant endless pearl strands to timeless solitaire pendants and everything in between. Whether you're shopping for an eye-catching gold necklace with diamonds or a sweet and simple heart necklace, you'll find it all at Shane Co.
What other jewelry styles does Shane Co. offer?
Shane Co.'s selection of unique and exclusive pieces is bigger than any other jeweler or website you'll find. Browse romantic pendants for your special someone, or celebrate Mother's Day with Mother & Child pendants.
Celebrating life's biggest moments and special occasions is easy with a gift of fine jewelry from Shane Co. Come see our collection of gorgeous Christmas gifts, Star of David necklaces, bracelets for any occasion and more for a surprise she won't forget.