Earring Jackets
A Little Something . Specially Curated Gifts for .
Could not load menu!
Could not load search results!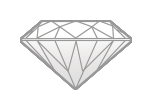 Earring Jackets from Shane Co.
Effortlessly transform any look with earring jackets. These beautiful pieces make it easy to accessorize your favorite studs, turning a traditional style into a unique and exquisite piece of fine jewelry. 
What is an ear jacket?
Earring jackets, also known as jacket earrings, are designed to dangle from or wrap around stud earrings. Earring jackets can completely transform the look of your studs; choose from a variety of shapes and designs to add to your earrings for a big new look.
What kinds of gemstones does Shane Co. offer?
Whether you're looking for simple all-metal ear jacket jewelry or styles set with beautiful gemstones, Shane Co. has it all, including classic diamond ear jackets and ruby and sapphire designs. Find ear jacket earrings set with:
Diamonds
Pearls
Sapphires
Rubies
Semi-precious stones
Does Shane Co offer other earring styles?
Earring jackets turn traditional studs into a captivating piece of jewelry, but Shane Co.'s selection features much more. From ear climbers to hoop earrings, Shane Co. offers a wide array of modern jewelry options. Whether it's a beautiful set of dangle earrings or earrings with jackets to add to your jewelry collection, come see our variety of designs you won't find anywhere else.