Hoop Earrings
A Little Something . Specially Curated Gifts for .
Could not load menu!
Could not load search results!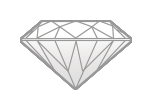 Hoop Earrings from Shane Co.
Hoop earrings are a classic accessory that make a chic addition to your style. Shane Co. offers beautifully crafted hoop earrings to complement any outfit, from understated and simple to vibrant and bold.
Hoop earrings are a jewelry staple for many women. Modern design has transformed the classic hoop into something extraordinary; choose from a variety of metals and gemstones to find hoop earrings that capture your unique sense of style.
Are hoop earrings heavy?
Consider comfort as you shop for hoop earrings. Large hoop earrings are typically heavier, and the larger the hoop, the more weight on your earlobe. Mini hoop earrings tend to be the most comfortable, as their weight is often similar to that of stud earrings.  
Does Shane Co. offer diamond-studded hoop earrings?
If you'd prefer a style with more sparkle than classic all-metal hoops, embellished hoops take your look from casual to upscale. Diamond hoop earrings provide brilliant sparkle with classic appeal. For a unique look featuring a gemstone other than diamonds, choose from styles with natural rubies, sapphires and pearls. Our gemstones are hand-selected to provide the best sparkle and color possible, and we use only high-quality stones and metals in our creations, whether you're shopping for tiny hoop earrings or heart earrings.
If you can't buy your favorite pair of earrings quite yet, add your selection to your wish list and return for it later, or drop a hint to your special someone.
Does Shane Co. offer other styles of earrings?
If you're ready to add new styles to your jewelry collection, explore our assortment of unique and exclusive pieces. Shop for earring jackets to create a truly unique look, or browse a variety of bracelets and necklaces to add something spectacular to your jewelry box.