Dangle Fashion Earrings
A Little Something . Specially Curated Gifts for .
Could not load menu!
Could not load search results!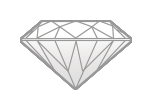 Dangle Earrings from Shane Co.
Dangle earrings add just the right amount of sparkle and sophistication to your look, whether they're gold, sterling silver, or studded with gemstones. Peruse Shane Co.'s collection of dangly earrings to find your perfect pair.
Pretty dangling earrings glimmer in the light and offer eye-catching design. Dangly earrings are a fashion staple; whether you like short dangle earrings or long ones, this classic look adds movement and interest to any outfit.
How long should my earrings be?
Choose the length of your dangle earrings by considering your overall style. Shorter earrings work well if you want a more subtle look. They typically hang close to the ear and don't fall past the chin.
Long dangle earrings make a bolder statement and can hang closer to the chin. Shane Co. earrings for women are versatile and look beautiful with a variety of styles. For an on-trend look, sleek threader earrings provide a modern feel.
What other types of earrings does Shane Co. provide?
In addition to dangle earrings, Shane Co. offers a stunning variety of earrings ranging from chic ear climbers to cute heart earrings. For a romantic gift, choose a classic pair of diamond earrings or surprise her with meaningful infinity earrings.