Cathedral Engagement Rings
A Little Something . Specially Curated Gifts for .
Could not load menu!
Could not load search results!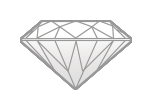 Cathedral Engagement Rings from Shane Co.
Cathedral-style engagement rings offer sparkling elegance combined with a vintage look. Browse Shane Co.'s collection of unique cathedral engagement rings.
What is a cathedral engagement ring?
A cathedral's architecture utilizes sweeping arches to support its interior; in a similar fashion, a cathedral setting engagement ring supports its center diamond, ruby or sapphire with arches of metal.
Are cathedral engagement rings a popular choice?
The cathedral engagement ring is a timeless engagement ring style and remains a popular choice for modern couples.
A cathedral engagement ring represents classic elegance, and its raised setting adds both height and a unique look to the center stone. Cathedral settings typically hold a single center stone, but the arches may be set with diamonds for added sparkle.
An engagement ring with a cathedral setting offers both beauty and practicality, as the ring's arches provide extra structural support for the center stone. If you're looking for a larger stone to set in your ring, a cathedral-style engagement ring could be the perfect choice and will allow the arches to hold the stone firmly in place.
Are Shane Co. gems high-quality?
Many of our cathedral engagement rings are crafted with superior gemstones, hand-picked for sparkle and quality. This quality is visible in both your ring's center stones and accent gems; whether you're shopping for halo diamond rings or cathedral engagement rings, you can trust that your ring's gems are of the highest caliber.
Does Shane Co. offer other ring styles?
Is my purchase protected?
Shane Co.'s Free Lifetime Warranty covers all of our fine jewelry, including the center stone of your engagement ring. Our rings retain their value whether you've been married for a few months or 25 years. If your rings tarnish, dull or break, send or bring them in for repairs and polishing for free, for life.
Come see our noncommission jewelry experts and they'll provide honest, education-driven expertise to help you find the perfect engagement ring.