Bangle Bracelets
A Little Something . Specially Curated Gifts for .
Could not load menu!
Could not load search results!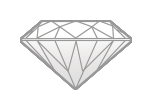 Bangle Bracelets from Shane Co.
Bangle bracelets can easily add sophistication to any ensemble. Add to your accessory collection or surprise a special someone with a gift of unique bangle bracelets from Shane Co.
What is a bangle bracelet?
Bangles are rigid bracelets made of a single piece of metal. Shane Co. bangle bracelets come in a wide array of designs and styles and can be simple or studded with gemstones.
What styles of bangle bracelet does Shane Co. offer?
Each piece of jewelry you wear should be a reflection of your personal style. That's why Shane Co. is committed to offering a wide variety of designs, ranging from simple, small bangle bracelets to large bangle bracelets.
Choose your metal: First, select your preferred metal type. Shane Co. offers bangles crafted from sterling silver, 14k white gold, 14k yellow gold, 14k rose gold, two-tone gold, and sterling silver and gold combinations.
Choose your gem: If you'd like a bangle that features gemstones, we offer styles with diamonds, sapphires, pearls, rubies and semi-precious stones.
Choose your stone shape: Our bangle bracelets showcase an array of stone shapes, including round, oval, princess, baguette and pear-shaped cuts.
Does Shane Co. offer other bracelet styles?
While gold and sterling silver bangles are a classic addition to any woman's jewelry collection, Shane Co. offers a unique selection of bracelets to complement every personality. Elevate your look with a classic diamond tennis bracelet or personalize a stylish piece that reflects your interests with our exclusive charms for bracelets.
Does Shane Co. offer bracelets for men?
Bracelets are a great accessory for more than just women—recent trends in men's jewelry have seen a resurgence in bracelets for him. Shop Shane Co. for stylish men's bracelets the modern man can wear every day.