Much like rubies, sapphires have been the subject of many myths and legends throughout history. The ancient Persians believed the Earth rested on a great sapphire, the reflection of which gave the sky its blue color. As a "royal gemtruth, sincerity, faithfulness and even long-lasting love. The sapphire is the official birthstone of September and the traditional gift for the 5th, 23rd and 45th wedding anniversaries.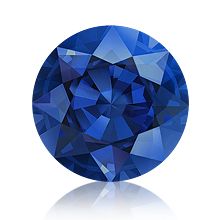 Sapphire Basic Facts
| | |
| --- | --- |
| Colors | Traditional Blue, Ice Blue, Kentucky Blue, Pink, Yellow, Green, White, Orange and Lavender |
| Mineral Family | Corundum |
| Hardness | 9.0 on the Mohs Scale |
| Clarity | Transparent |
| Crystal Formation | Hexagonal (Trigonal) |
| Birthstone | September |
| Anniversary | 45th |

Characteristics
As a fellow member of the corundum gem family, the sapphire is a close cousin to the ruby. Sapphires are most popular as blue gems. The blue hues can range from very light blue to dark blue. Shane Co. carries sapphires in all ranges of blue from a light or "ice blue", to medium or "Kentucky blue," to dark or traditional blue. The preferred shade of blue is purely a matter of personal taste. Sapphires also are found naturally in a range of other colors, making them very versatile. When corundum gemstones are found in colors other than red (ruby) or blue, they are called fancy sapphires.

Because corundum is the second-hardest substance (next to diamonds), sapphires resist scratching and are well suited for all kinds of jewelry. They are available in a wide variety of price ranges. Like rubies, the primary factor in determining sapphire value is rarity of color. Brilliance, consistency and depth of color also are factors.

Origins and Quality
For years, the most desirable blue sapphires were a velvety, violet-tinged cornflower blue known as Kashmir Sapphires. These high-quality gemstones are associated with legendary mines in Kashmir, India, but also are found in Thailand.

Sapphires from other areas of Asia are characterized by a fine, rich or royal blue that is almost electric in color. Compared with Kashmir sapphires, they look "inky" under artificial light and lose some of their color.

Thai or Siamese sapphires tend to be a very dark blue to bluish-black color, but gemstones approaching the quality of Kashmir sapphires are often found in Thailand as well.

Sapphires of varying colors and qualities also can be found in Sri Lanka (Ceylon), Montana, Africa and Australia.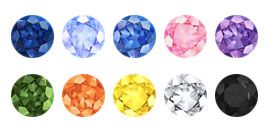 Sapphire Colors
Although sapphires are famous for their vibrant, brilliant shade of blue, many people are unaware that sapphires are found naturally in a wide assortment of hues. In addition to the traditional blue, some of the most common colors used for jewelry include ice blue, Kentucky blue, yellow, green, lavender, pink, orange, black and white. Blue sapphires get their color from iron and titanium. A small amount of iron creates yellow and green tones, while chromium produces pink.

While fancy sapphires tend to be slightly more affordable than the traditional blue variety, these gemstones are still corundum. As the fashion world progresses, sapphires in natural pastel shades are growing increasingly popular.

Heat Treating of Colored Gemstones
Virtually all rough rubies and sapphires sold throughout the world are heat treated before they are cut and polished. This causes a reaction in the mineral that gives the gemstones their true permanent color.

Shane Co. sells only naturally mined rubies and sapphires, never lab-created gemstones sold by many other jewelers.